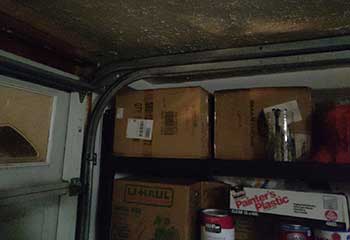 Garage Door Off Track
Customer Issue: Loose screws brought yet another garage door out of its tracks. An unfortunately common occurrence with overhead doors that don't receive regular checkups.
Our Solution: We disconnected the garage door from its opener and lift cables, and then raised it off of its tracks by hand. We used an electric drill, a tape measure, and a fluid leveler to tighten the track back into position. Then, we picked the door back up and slid the rollers back into the tracks, reconnecting the opener and cables afterward. Success!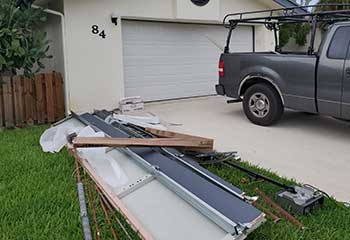 Panel Replacement
Customer Issue: The customer had a parking accident that damaged several of her garage door panels and hinges.
Our Solution: Before scheduling the appointment, we ordered the three replacement panels and accompanying hinges we needed from Clopay. The garage door had to come out of its tracks for us to reinstall most of the middle section, and we ended up needing an extra hinge as well. Good thing we had some extra spares that fit! It was a long session, but the end result was a garage door that looked and functioned as good as new.