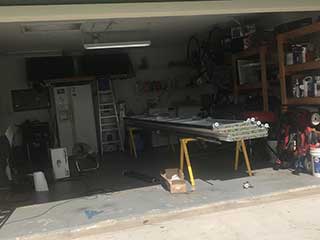 The purpose of Amarr's Specialty garage doors is to offer a special style and features that traditional units made from steel and wood do not have. In this line of products, the company has two models: Vista and Coastal.
Vista Is an Overhead Door with Commercial-grade Aluminum Frame Which Is 2 Inches Thick
There are two finish options. The anodized frame has a coating of aluminum oxide which makes the metal even more resistant to the effects of the elements and to rust and corrosion, in particular. The powder coating provides reliable protection as well. There are different color options with both types of finishes.
There is a choice between two types of panels with the Vista model. The glass panels allow light to come through. There are nine different glass panel options from clear to obscure, frost and snow. There are also tinted options such as green, gray and bronze. It is possible to go for aluminum panels. There are anodized and perforated panels.
The Coastal model has a vinyl face. Vinyl is resistant to scratching and denting as well as to water. That is why it is suitable for coastal areas and/or harsh climate. After the vinyl layer, there is a layer of polystyrene insulation followed by ABS backing. The R-value of the model is 8.16.
With the Coastal model, there is a choice between ten different panel designs which offer variations of the traditional and carriage house door styles. There are six different window design options, but only one color available – white. It has UV resistance which provides protection from the damaging effect of ultraviolet radiation.
Back to Garage Door Maintenance